Together We Will Fight COVID-19

and Prevail
Spreading Awareness and Fighting Stigmatisation
Briefings
The stigma associated with COVID prevents many from reaching out for medical care in time. Deliberate efforts have been made to spread awareness through outreach (medical teams with volunteers) to dispel the myths related to COVID, while encouraging all to seek timely medical care.
COVID Tips
Problem Solving
Healthy Work Life Balance : Physical and Online Activities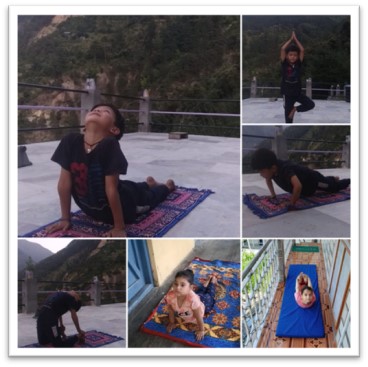 Yoga for Health
To ensure healthy lifestyle, sustained efforts had been made to get ladies and children involved in Yoga and other physical activities at home. As also,online platforms had been leveraged to keep everyone mentally engaged through varied and creative activities .
Staying Active Indoors
Creative Activities
The Finest Medical Care : Test, Trace & Treat
Sanitized Ambulance
Reaching out for medical support during the pandemic is a challenge for most people. A well thought through medical plan has ensured availability of easy medical access, routine health checkups as also multi-layered testing : Rapid, TRUNAT and RT-PCR. These efforts have helped to minimise the spread of the pandemic.
Easy Access to Testing
Inhouse Testing Capacity
Sanitization : Homes and Common Areas
Sanitizing Common Areas
The spread of infection through surface contact is a major concern. Hence, regular sanitization drives have been undertaken for all homes and common areas. UV Machines have also been installed to de-contaminate articles / products / supplies.
Indoor Sanitization
UV Machine for Sanitization
Nutritious and Hygienic Food
Institutional Quarantine facilities have been suitably equipped to give a 'homely' feel. All essential facilities are provided to enable vibrancy and prevent the feeling of isolation.
Living in a Happy Space
Station Quarantine Facility : Holiday Home
Doorstep Delivery of Rations & CSD Products
Distribution of Fresh Rations
Minimizing movement of people is key to limiting the spread of the pandemic. All out efforts have been made to ensure that all essentials including rations and CSD stores are delivered at home in a safe manner.
Sanitized and Safe Delivery of CSD Items at the Door
Safe Delivery of Ration at Summer Hill
Enhancing Station COVID Facility
HQ ARTRAC provided essential support towards upgrading the infrastructure at MH, Shimla and 102 TA Battalion to mitigate COVID related challenges, provide high-quality essential health services and a healthy environment to the troops and their families.
MEDICAL EQUIPMENT FOR FIGHT AGAINST COVID
Institutional Quarantine Facility
Adequate quarantine facilities have been created in the new OTM accommodation of Walker hospital and reappropriated married accommodation. These facilities have been equipped with excellent amenities for a comfortable and stress free stay during quarantine.
WALKER HOSPITAL
HOMELY QUARANJTINE
Join Hands to Defeat COVID
Fight against COVID is not yet over and we need to fight behavioral fatigue as well. Let us join hands and support each other by sharing best practices/ tips/ your experiences which can help us all. Please WhatsApp us at 9015006277. We will shortlist the most useful entries and place them on this page with credits.